Story of Kadambari - journey from Hindu royal family to Christ
I hail from the Hindu royal family. My uncle Fidel Ramos was the former president of Phillipines and my aunt Leticia Ramos Shahani is the senator. My father was a prominent business man and owned huge properties. I have two sisters Shanta and Anita. I was blessed and had the best of everything in life. I went to college and it was fun studying there. I was the pet student of my principal and teachers, and they all loved me. I was very good student and often won prizes for my college in the inter-collegiate music, dance, and drama competitions. During my vacations I enjoyed visiting my aunts and meeting Bollywood personalities, because many of the stars stayed at my auntís hotel in Mumbai. I was young and naÔve and enjoyed hearing them gossip and tell stories. I desired and dreamed to be popular and make it big one day like them. I had inborn talent since childhood and had a lovely voice but that was not sufficient.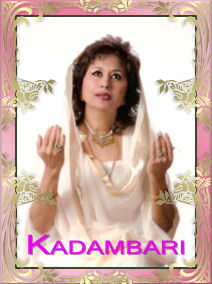 In the meantime I had completed my Masters in Philosophy, and then we moved to Mumbai, where I later obtained the Diploma in Advertising and Public Relations. I knew I had to work hard to make an impact. I started my music training under the guidance of Ustad Fiaz Ahmed Khan and later Taj Ahmed Khan. Within a short span of time I became very popular and started doing concerts all over India and abroad. I then joined hands with L B Private Ltd. and launched my career as an independent Bollywood film producer. At this same time I started Sai Baba Textile garment manufacturing company to supply garments to U.S and Russian markets. I was smart intelligent and prosperous. The Director of Devidayal stamping Industries Sanjay fell in love with me. Soon we became close friends. As the years passed by our love grew fonder and we realized we were made for each other. But God had a different plan. I came to know the intentions of his parents and that point I opted to break off with him. It was tough and heartbreaking but I had decided it once for all. Eight months passed and I refused to meet him or recieve his call. Then one night he came over to my place and said I have come to marry you I love you and I cant live without you. That night we got privately married in the temple according to the Hindu rites. Life was a bed of roses I had it all career business and the love of my life. I could'nt ask for more. It was then in the tragic year 1993 that I lost my precious mom my sweet aunt and my cousin brother. I was devastated and left for England. I tried my best to get over the loss, not knowing that life had more to offer. In my absence sanjay was forced by his parents to desert me and marry the girl of their choice. He cried his heart out and tried his best to convince them but all was in vain. They threatened to disown him as a son and the heir to their estate. He had no choice left, so in the presence of his mother he jumped from the 9th floor of his building and committed suicide.
When I got back from England he was gone. I was shocked, shattered and cried my heart out but nothing could bring him back to me. I realized life was meaningless, all was in vain. I went into a state of depression and fear. I was physically and mentally sick. My business started failing and I had huge financial losses. I ultimately decided to shut down both my Film Production Company and Textile Company. I stopped doing my concerts, expenses increased and income decreased. The storm came, the wind blew and all was lost. I knew I had no purpose to live now.
A close friend of mine had been telling me about Jesus on many occassions, but I would not listen to what she had to say. I was a Hindu and was praying to my gods for help, but none of them answered my prayers.My friend kept urging me to come to a prayer meeting to see for myself that Jesus is the One true living God. I decided to go. At the meeting the Holy Spirit moved me.
It was at that moment Jesus came to my life and touched me. He became the purpose and strength of my new life. I fell at His feet and asked for forgiveness. The Bible became the source of all my joy. I loved reading it and claimed every promise of the Lord. Every promise came to pass in my life and I became a living testimony of the true God Jesus Christ. I was full of joy, peace prosperity, hope and faith. In the year 1999 I was baptized. Life became beautiful once again. The more I read the Word of God the more I yearned to hear his voice and wait on him. I knew he would not forsake me and all would be perfect in His time. Things changed; the most popular Zee TV channel signed a contract with me as their singing artist. I was excited and signed the contract. They were preparing to make my music albums. They wanted to release my Sai Baba bhajan album which I had recorded before I knew the Lord with world renowned artist Anup Jalota. It was a very tough decision to make. Satan lured me with all types of worldly gain but I opted to be faithful to The Lord. I gave up the contract and burned all the fliers that were to be pasted in Mumbai. The Word of the Lord came to me through visions and dreams. He asked me to go to the United States. I didnít know a single soul and thought it must be my own idea and not the Lordís plan. I prayed and asked the Lord for a sign saying if He provided me with the air ticket and the dollars I needed then I would go. The Lord answered my prayer. I got the dollars and a free Delta airline ticket to travel. I then came to the U.S. not knowing a single soul. I travelled by first class and the Lord opened the doors for my ministry. I did concerts all over America glorifying God and sharing my testimonies. The Gospel was preached to thousands who attended my concerts. People from different Hindu backgrounds wanted to know about the Living God Jesus. Soon the Lord opened doors for me to perform in India, Singapore, Malaysia, Melbourne and Sydney Australia and many locations all across New Zealand. I started recording albums for the Lord. I was blessed with the gift of composing and writing lyrics also. Many albums became super hits and were appreciated by one and all. I then recorded songs for Vishwavani in the Sindhi language and later some in English. My concerts drew large crowds and the presence of the Lord was always with me wherever I performed. I did concerts to raise funds for building churches, for the poor and needy and also for the Blind Association. My testimonies have been broadcast over Voice International Australia, Sunrise Radio London, Radio FM, Jeevanathan Radio, Dhivya Vision, Vandana TV, Transworld Radio Vishwavani and the BBC. I was also blessed to be honored by the Indo American Christian Federation of America to recieve the Lifetime MILLENNIUM STEWARDSHIP AWARD for preaching the Word of God through my music ministry with unwavering devotion.
In the year 2004 the Lord spoke to me that I would be married by the end of the year. He kept his promise. In him all is yes and amen. By Nov 2004 the Lord sent his chosen one David Davidson to Mumbai. He proposed to me and I was married to him on 28th Dec. 2004. I am blessed to be married to this anointed man of God, my husband. I have a wonderful life and our desire is to do Godís will and spread the Gospel across the Nations and to bring from the four corners of the earth, all his lost sheep back together in the Garden of Renown.
..
Next Story
................................................
Previous Story